Thirty-Six Hours in New Orleans: Glitter + Grit
I think I fell in love with New Orleans on the corner of St. Charles Avenue and Cadiz Street. I had been in New Orleans for all of 27 minutes, having battled weekend traffic and flooded streets to get there. I was in Brooke's car, my face glued to the window as we cruised past pastel-colored mansions and wrap-around porches. Her Pandora jazz playlist streamed through the speakers—"I always put this playlist on when people come visit," she said—and the sun was setting over the city.
The last light bounced off the Mardi Gras beads that hung from balconies, trees, and power lines; the pink and purple beads had faded with time. The city already seemed to ooze a certain energy I hadn't found anywhere else, and I could have sworn that between the gritty city and the soft, Southern mansions, even the New Orleans streets seemed to glitter.
And so began my thirty-six hours in New Orleans.
♦♦♦
Our first stop (and our only stop for that evening—I was exhausted) was dinner and drinks at Auction House Market, a new spot on Magazine St. When we stepped out of the rain and into Auction House Market, I immediately thought I was in NYC or LA, not Louisiana of all places.
The market's design was sleek and cosmopolitan, with an airy, open feel to it and plenty of seating. Auction House Market has ten food vendors, from sushi to poke bowls to marinated crab claws, making it a super-swanky food court. Brooke had the ceviche from Elysian Seafood; I tried a black bean hummus wrap from Sola Deli. We found a spot at the bar and spent the next hour catching up.
Brooke and I met three years ago when we were getting SCUBA certified in Koh Tao, Thailand (she's actually featured in this 2015 blog post). We stayed in touch through Facebook, and shortly after I moved to the South, I told her I was going to come see the city she had raved about on the beaches of Thailand.
As we were catching up, a quick look at the people sitting around the bar spoke to what Brooke had told me earlier when I was debating what to wear to dinner: Come as you are. Around the bar sat a woman wearing a brilliant rainbow wig, men dressed in power suits with cocktails, a gay couple to our right, a gaggle of college students across from us, and—in what was the best outfit of the night—a man wearing a Bulls jersey that was sewn into a tuxedo jacket. You're lookin' good, New Orleans.
♦♦♦
The next morning, I walked to French Truck Coffee on Dryades St. This bright spot was only two blocks away from Brooke's cozy apartment in Uptown, and they have three more locations across New Orleans. Knowing I'd be exploring the whole day, I started my Saturday with their New Orleans Iced Coffee and a slice of banana bread. I sat outside and went through Brooke's long list of recommendations, saving the locations on my Google maps so I could reference where everything was.
Coffee in hand, I got in my car to drive to Magazine Street, which features six miles of boutiques, restaurants, salons, bed and breakfasts, art and pottery studios. The local shops are tucked away in historic homes and the restaurants are shaded by massive oak trees, beads swinging from the branches.
Magazine Street weaves through some of the most beautiful New Orleans neighborhoods, and some blocks are more busy than others. You can start at Uptown (near Audobon Park) or Downtown (near Canal St). I picked up a local paper guide that had the shops and streets color-coded, which helped me figure out where I was in relation to which shops I wanted to go to (this online guide is a similar version).
I started in the Uptown area, with my first stop at the Ashley Longshore Studio Gallery. This. Place. Is. A. Gem. Brooke made sure it was on my list of things to see and I was not disappointed. In the studio, a female DJ was mixing sick beats at 11am, glitter reflected off the floor, and a portrait of Jesus wearing a party hat and holding a box of donuts peered down at me.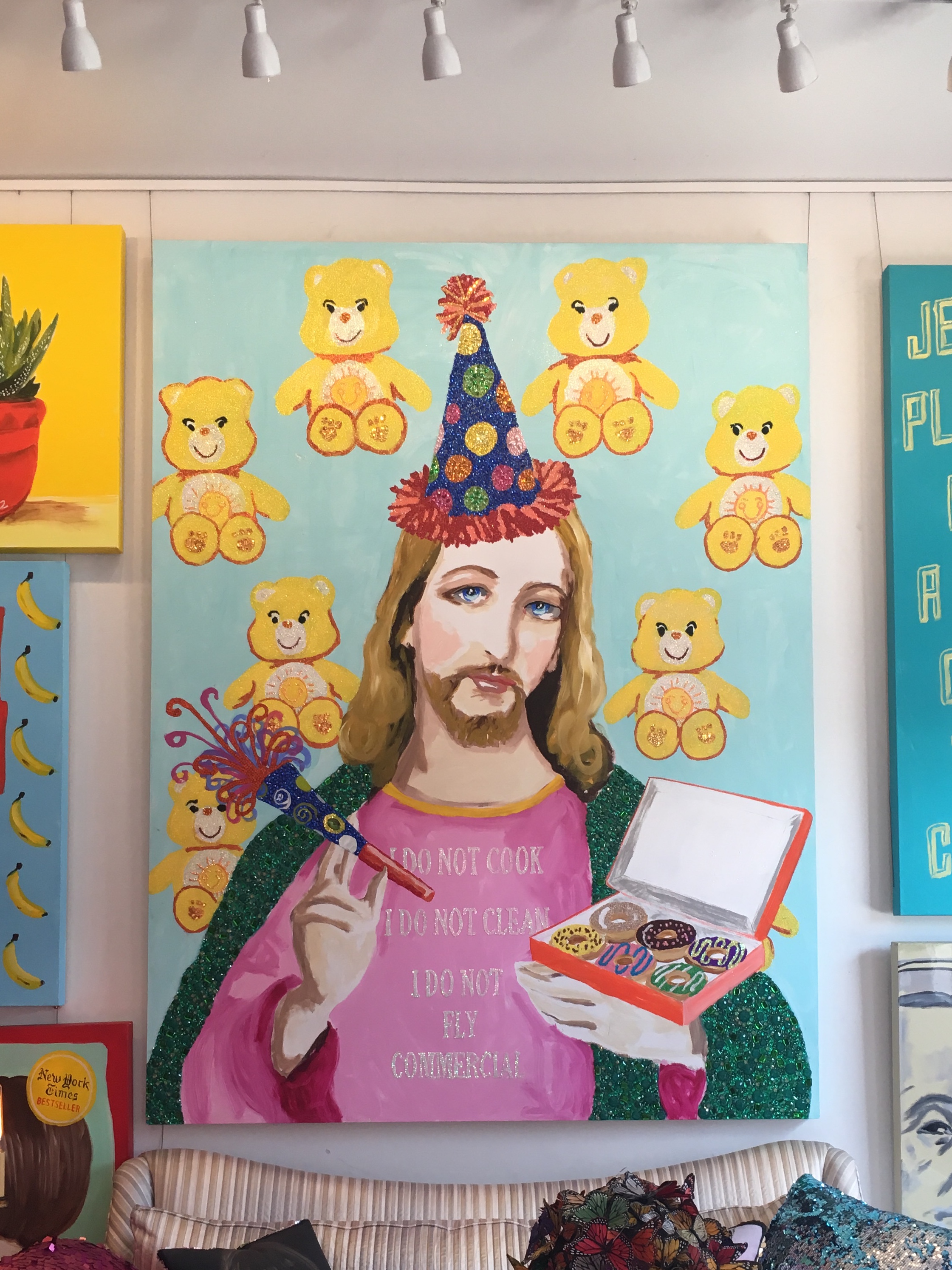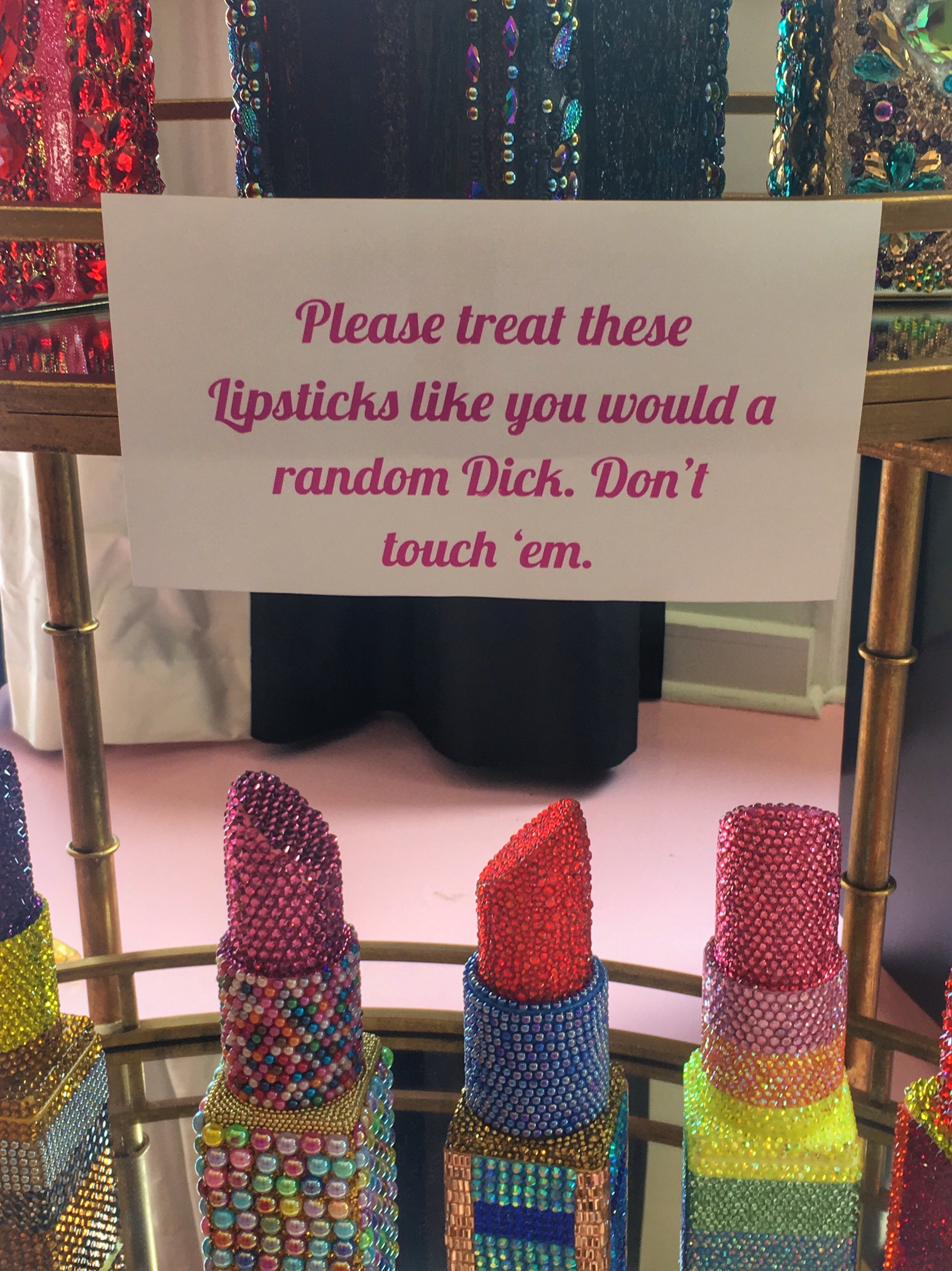 Ashley's pop-culture inspired work is loud, unapologetic, and bold in color and language. Just like New Orleans. Bedazzled portraits of Lil Wayne, Abe Lincoln, the Queen, George Washington, Frida Kahlo, and yes, Jesus in pink sunglasses, stared back at me. My favorite work of art? The words "Feminism is a real panty dropper" across a background of bananas. Amen.
I kept walking down Magazine Street, somewhat unprepared for all six miles. Like, that's a really long way. So I wandered in and out of shops, one of them Lionheart Prints. This boutique featured hand-made cards and prints with phrases like "Parade Vibes Only" and "I Love Your Hair. I Hope You Win."
When I asked the store assistant, who had moved from New York City to New Orleans three years ago, what she loved most about NOLA, she answered, "The people." Brooke had said the same the night before.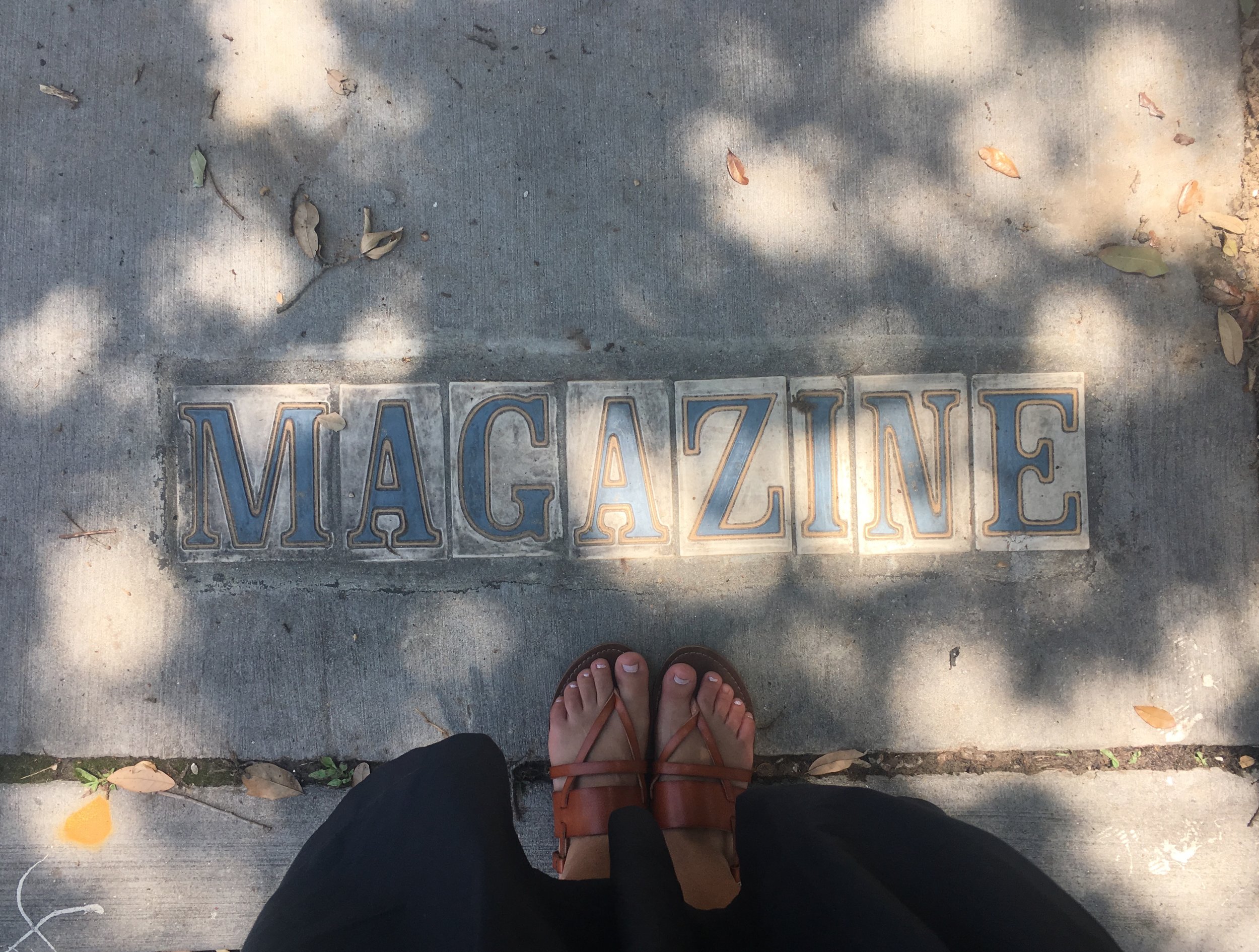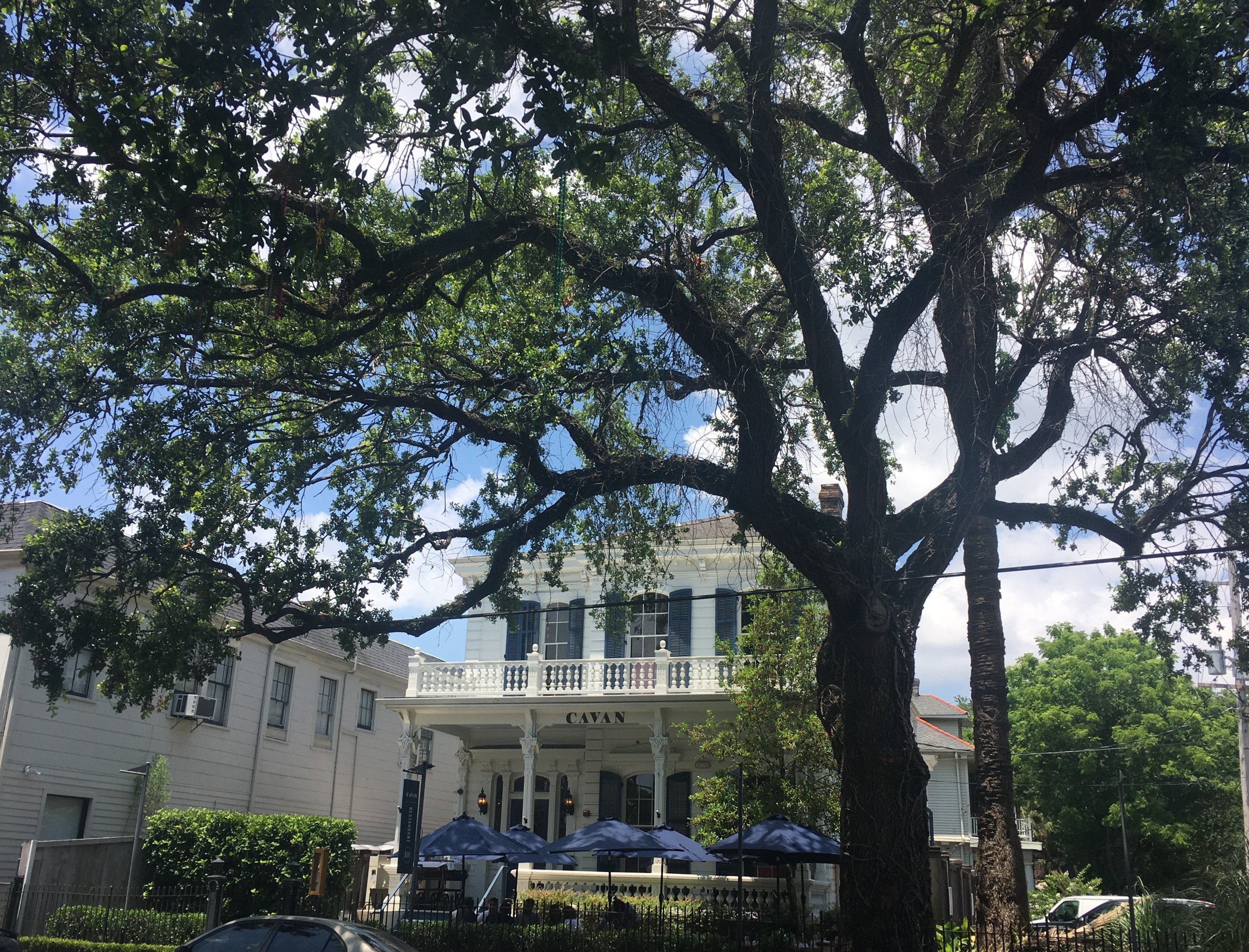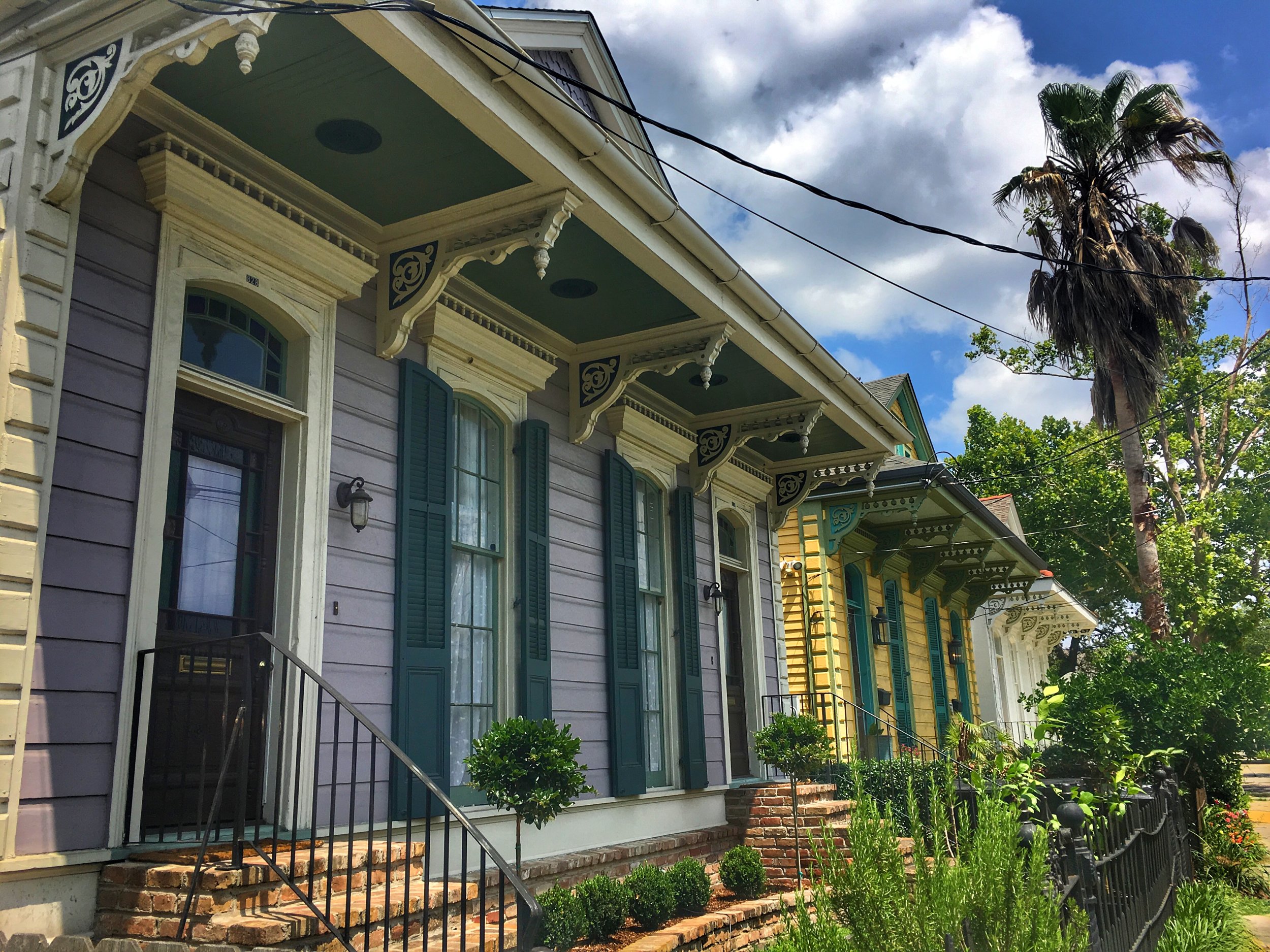 As I was stopping to take photos of the oak trees and storefronts, Potsalot Pottery caught my eye. I'm a sucker for pottery. Cindy and Alex opened the shop in 1993 and have made pottery-making another form of entertainment in this city. Cindy took the time to show me a few unique pieces, including a new piece in which she had used a lamp shade for the unique floral pattern. They throw the pottery right there in the studio and you can see the pieces lined up on shelves, waiting to be glazed. There wasn't a large selection of mugs, but there were plenty waiting to be glazed. Next time, then.
At this point, I had spent nearly two hours on Magazine Street and was only at the halfway point; there was still three miles left of unexplored shops and side streets. But I will also have to save that for next time: the sun was beating down, I was incredibly thirsty, and it was time for lunch.
♦♦♦
Lunch took me to the French Quarter for the first time. However, I made the rookie mistake of driving from Magazine St to the French Quarter and paying an obscene amount to park in a public lot. Don't do that. Uber from wherever you are at. Thank me later.
I met my aunt and uncle for lunch at Mr. B's Bistro, a classic, timeless restaurant in the heart of the French Quarter on Royal St. The last time I saw my aunt and uncle, who are from Cincinnati, was on a random street in Hanoi, Vietnam nine months earlier. It was only fitting that we both ended up in New Orleans on the same exact weekend, unbeknownst to each other until my aunt saw on Facebook that I was in New Orleans.
The atmosphere at Mr. B's Bistro was refined and upscale, the interior lined with dark, wooden panels. The restaurant had been severely damaged in 2005 due to Hurricane Katrina and in 2007, Mr. B's Bistro opened its doors again in the same location, with the same interior.
I had the BBQ shrimp, the bistro's specialty (although their gumbo is famous, too). My uncle showed me how to peel the massive shrimp and, with a white bib on, I dug in. The buttery barbecue sauce was delicious; I instantly felt like I had tried a Creole classic. Big shout-out to my aunt and uncle for treating me to lunch; otherwise, this spot would have been beyond my budget.
After another glass of wine and a brief conversation with the bartender (he heard me talking about my other love, Oxford, Mississippi, and told me where I could find Faulkner's house in the French Quarter), I walked down Royal Street with my aunt and uncle. There was something to see and hear every few steps. While the street was crowded, it wasn't packed. Royal Street, which runs parallel to the infamous Bourbon Street, truly made me feel like I was exploring another country, thousands of miles away from Louisiana. The fact that New Orleans is, in fact, in Louisiana just makes it that much cooler.
Shop windows displayed antique jewelry and vintage dresses. Bakeries and coffee shops were squeezed between voodoo shops and tarot card readings. Jazz musicians played outside of art galleries and street artists did back-flips in front of the New Orleans Police Department. I loved the wrought-iron balconies with potted flowers, the fleur-de-lis flags alongside pride flags, the cacophony of the crowds, and the fact that the street—and it's energy—seemed never ending.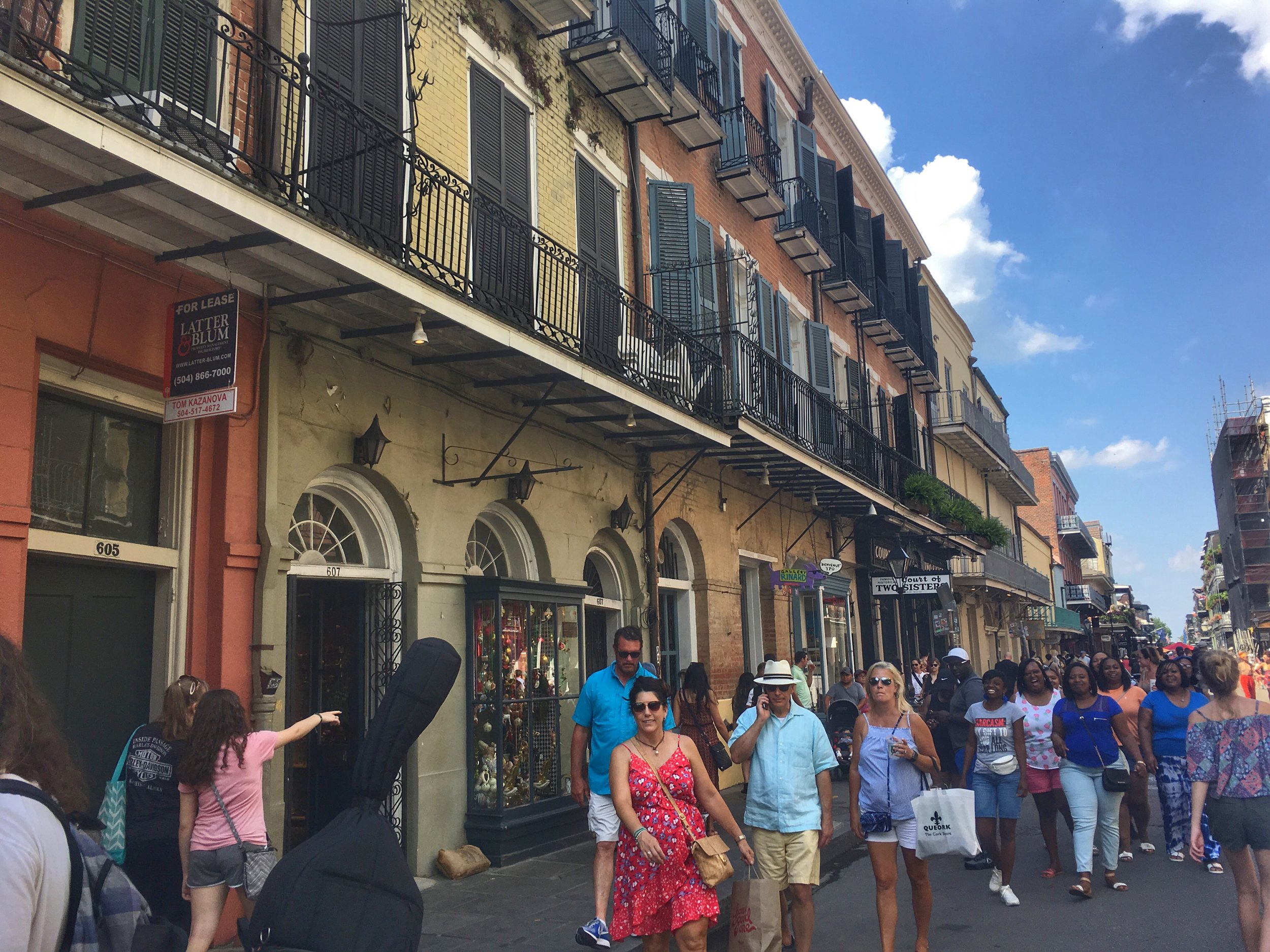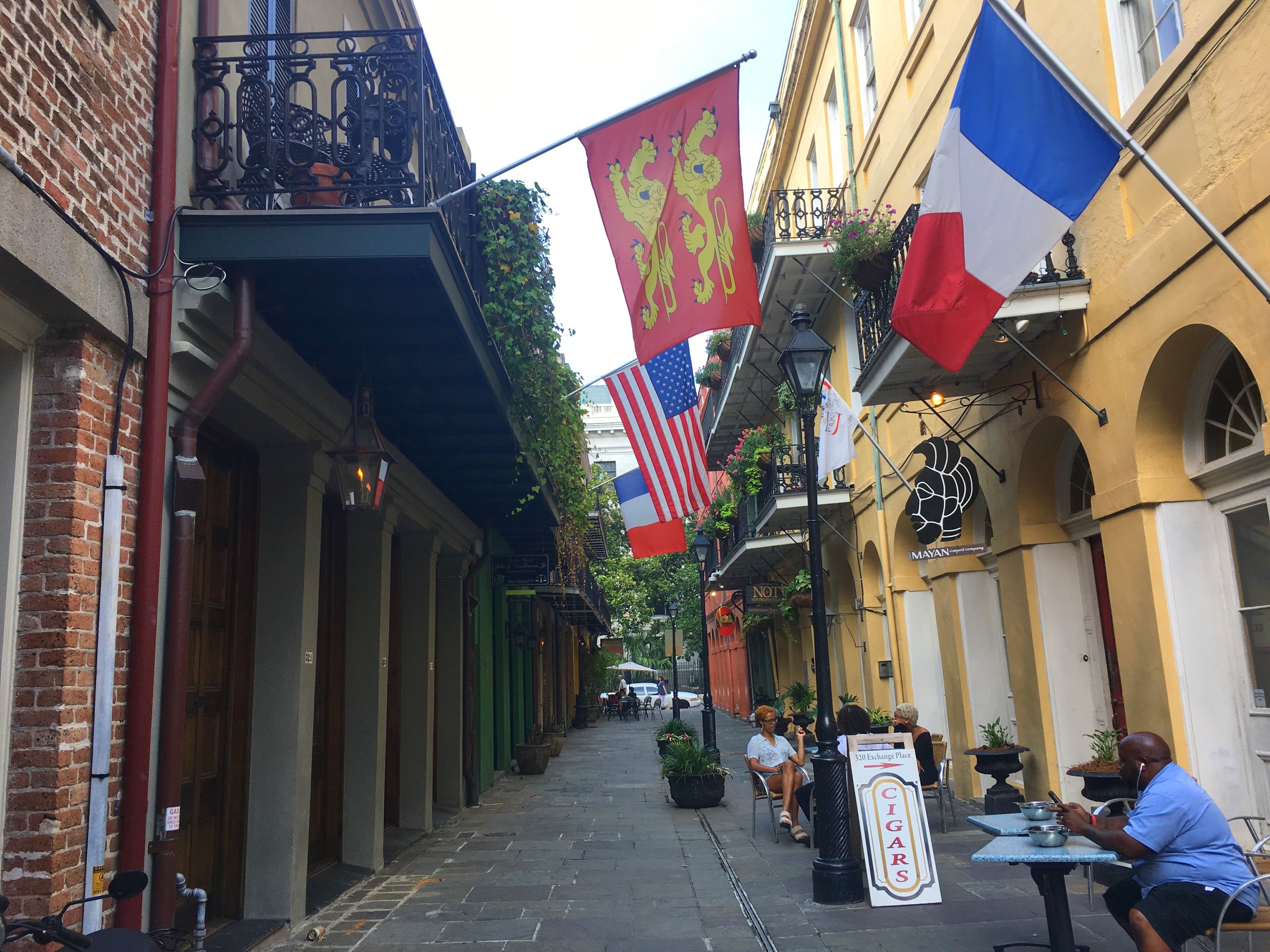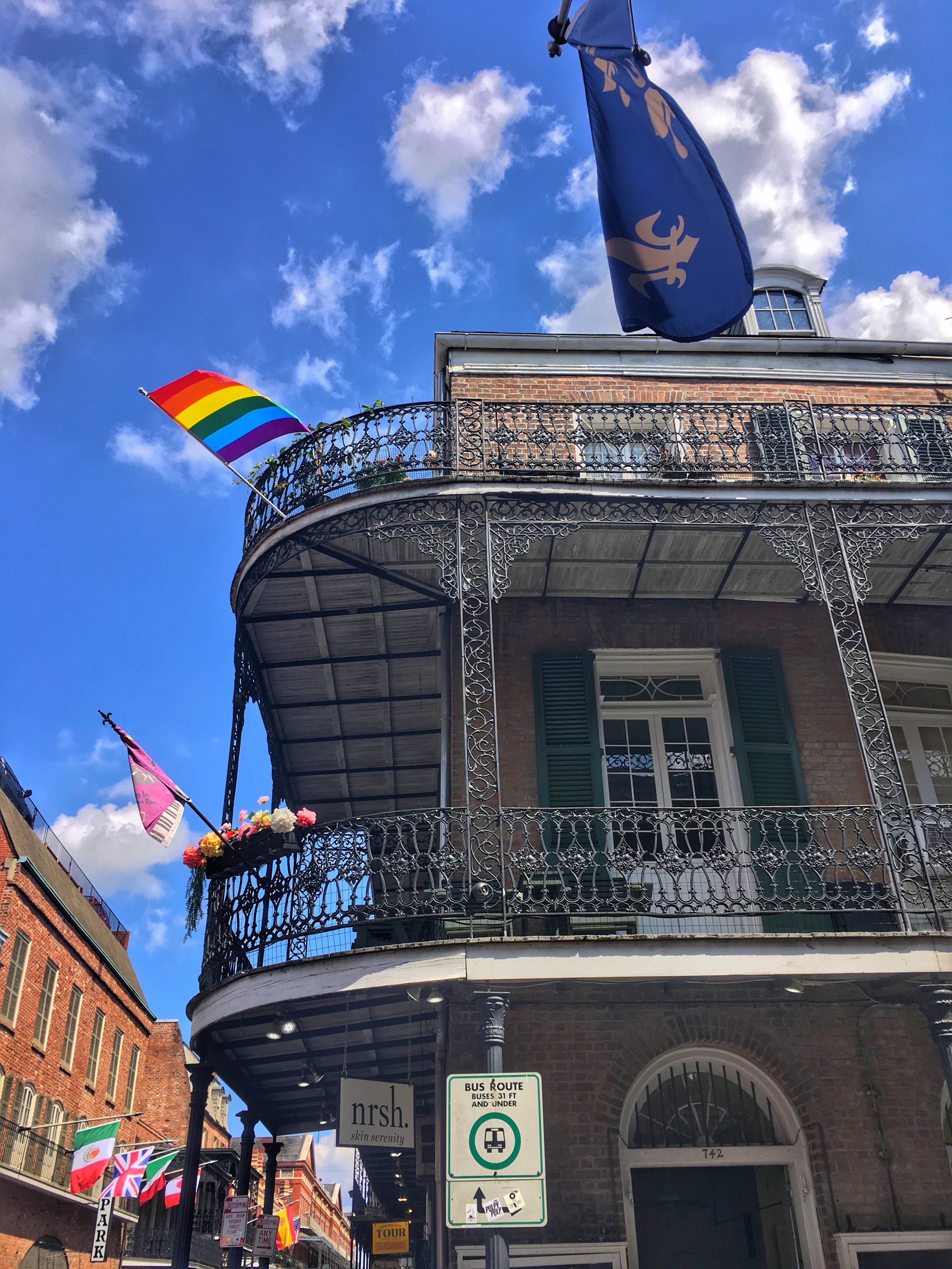 Admittedly, my time in the French Quarter was very short, but I didn't stress about it because I already knew I would be coming back. I missed a few sightseeing spots (Jackson Square and the St. Louis Cathedral) and I only checked out two shops on Royal Street, so of course, I've got to return.
While most first-timers experience the madness of Mardi Gras or a boozy night on Bourbon St, this trip wasn't for that. I wanted to get the lay of the land so that I could plot what I wanted to do the next time I came to the Big Easy (and the third, and the fourth time...). I was lucky to have a host who gave me great recommendations that helped me experience New Orleans with a more local feel, as opposed to spending my precious thirty-six hours standing in long lines for overrated spots.
Really, my limited time in the French Quarter was because I had parked in a public parking lot, and I already owed $23. I wasn't eager to pay any more than that, so I hightailed it back to my car. I cruised around the Garden District, but was too tired and way too thirsty to really enjoy the area, so I decided to save it for Sunday.
Besides, it was already 6pm. It was time for another meal!
♦♦♦
Brooke and I headed to the classic Pontchartrain Hotel on St Charles Ave for drinks at the rooftop bar, Hot Tin. This was one of my favorite spots in New Orleans. I loved the cozy, upscale interior and the floor-to-ceiling glass doors that were pulled back to usher in the fresh (very warm) air. The outside portion of the bar features a birds-eye view of the city at dusk, with the Mississippi River cruising below the Crescent City Connections twin bridges. Brooke introduced me to a few of her friends; the conversation was easy and the cocktails were perfect.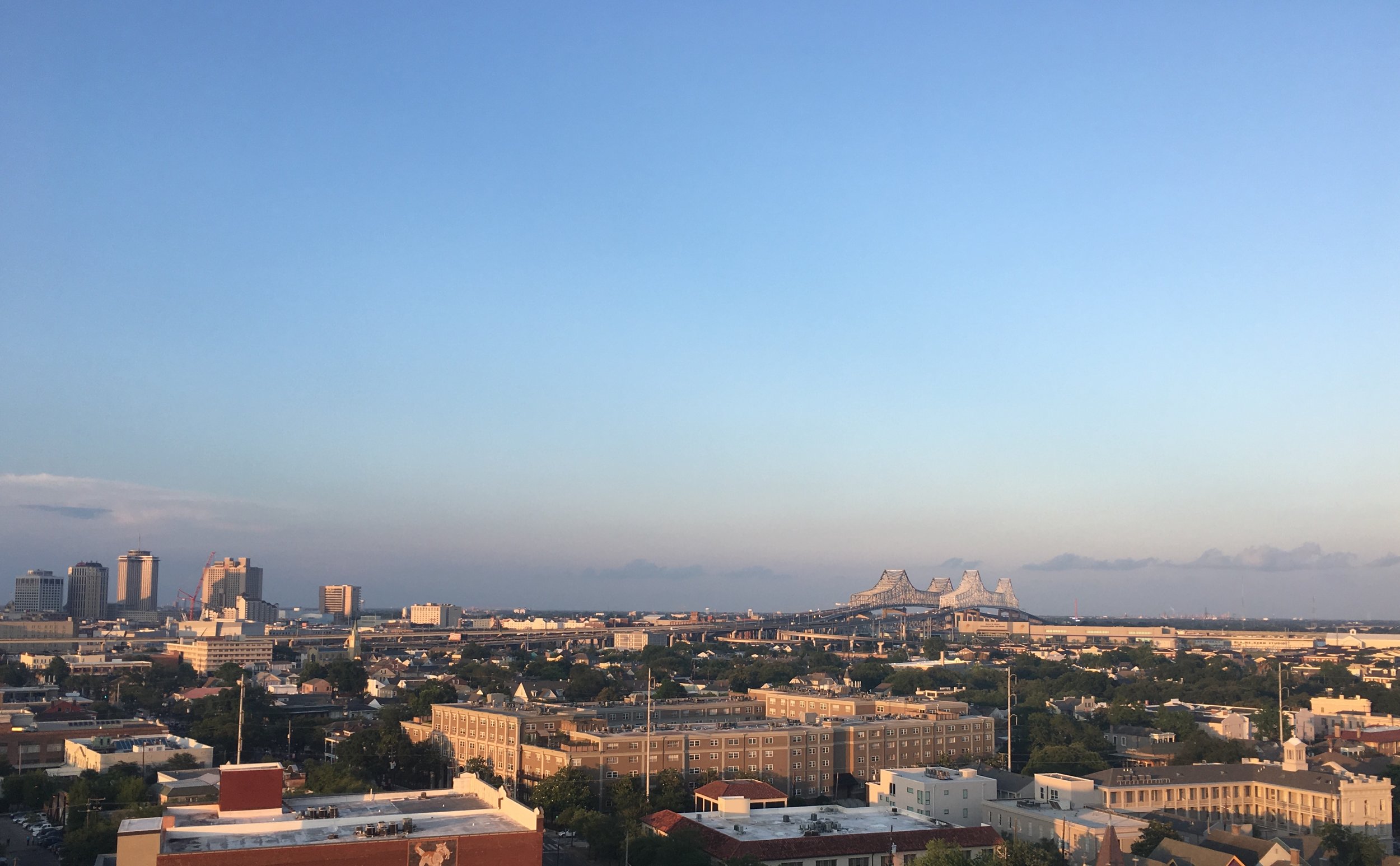 For dinner, we picked an affordable spot down the street, appropriately called Tacos and Beers. While the place wasn't anything special, the location was great and the server was friendly. After a full day of exploring, nachos and tacos did the trick for me.
With Saturday as my only full day in New Orleans, traversing Magazine St, the French Quarter, and St Charles Ave in 90-degree heat felt like an accomplishment. But I still had Sunday!
♦♦♦
Sunday morning, after saying goodbye to Brooke and thanking her for her hospitality and gushing about how much I loved her city, I made my way back to the Garden District to round out my time in New Orleans.
I went to Gracious Bakery on St Charles Ave and Prytania St for a bagel and coffee (plus a donut), since I didn't want to spend time battling brunch crowds at the more popular spots. The inside atmosphere wasn't anything to rave about, but they had outdoor sitting beneath the oak trees on St Charles Ave. Gracious Bakery was the perfect way to start the morning, and they get bonus points for having a water jug to re-fill water bottles.
From there, I walked down Prytania St to the heart of the Garden District. Of course, I inadvertently found myself at a local bookstore: Garden District Book Shop inside the historic Rink Shopping Center. I used to buy books on Amazon for the cheapest price I could find, but after falling in love with Square Books in Oxford, I try hard to keep those dollars local.
I asked a staff member for her recommendation on books about Hurricane Katrina. I still remember Anderson Cooper's coverage of the tragedy when I was fifteen, far away from the chaos and death that suffocated this city. Thirteen years later, the event still creeps its way into casual conversation with locals. I wanted to know more.
She recommended 1 Dead in Attic by Chris Rose, a local journalist who compiled the newspaper columns he wrote in the days and months after Katrina slammed into New Orleans. I'm halfway through it; it's a tough read. The devastation and death is hard to confront even on paper, but I think it's important to understand. As Chris says in his book's forward:
Even ten years later—with so much rebuilt, restored, resettled, reconfigured and entirely reimagined—the specter of Katrina still colors life here, in some small way, even if just a muted gray.
From the bookshop, I walked towards Lafayette Cemetery #1, the oldest of all city-operated cemeteries in New Orleans. I did a self-guided tour, courtesy of Google, but I definitely plan to a do a walking tour (or a ghost tour!) of this cemetery next time I visit. The Lafayette Cemetery is the most widely filmed cemetery in New Orleans and has been used as the setting for the CW's The Originals and Vampire Diaries and the movie, Dracula. Anne Rice also used the cemetery as inspiration and promotion for her vampire novels.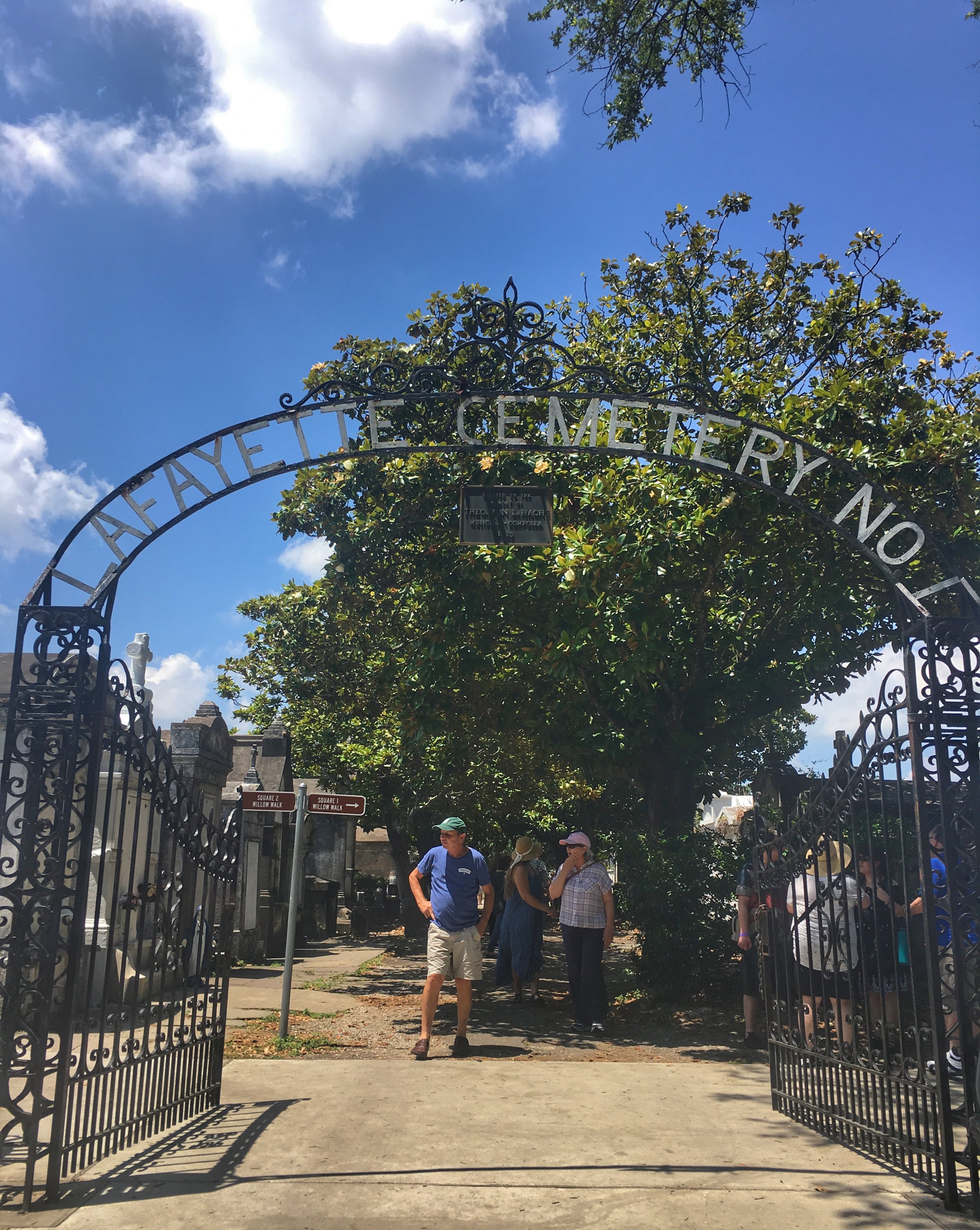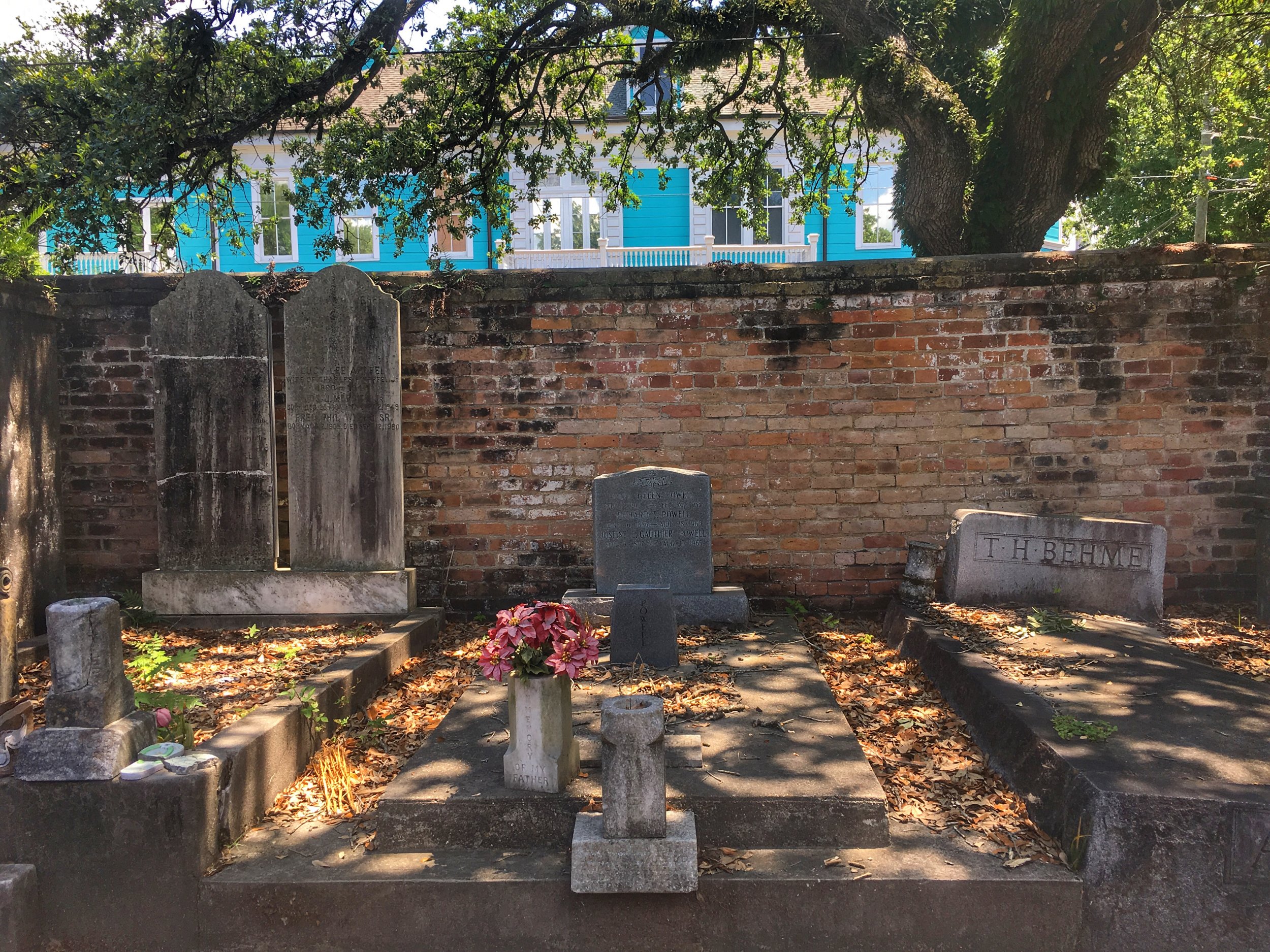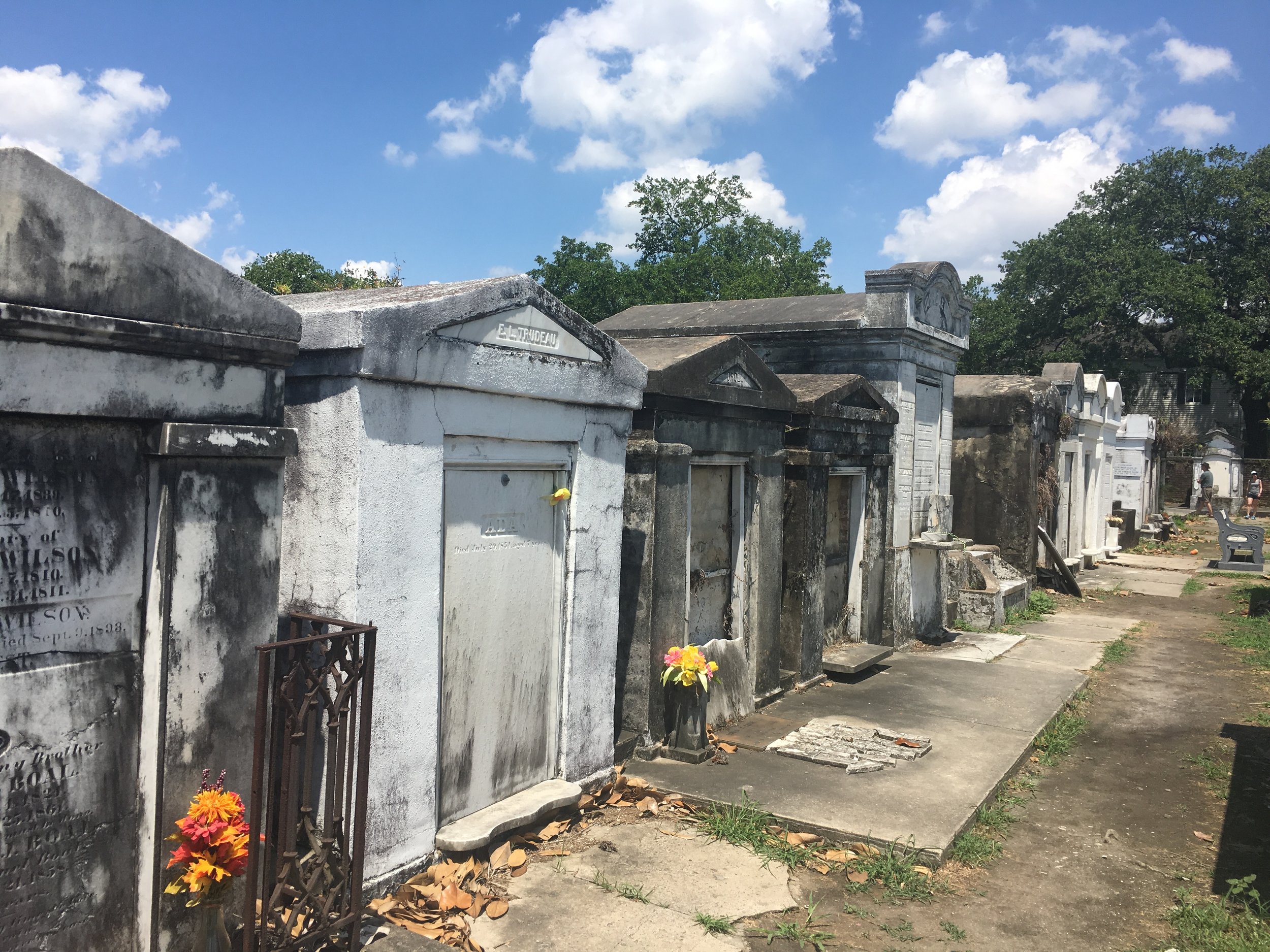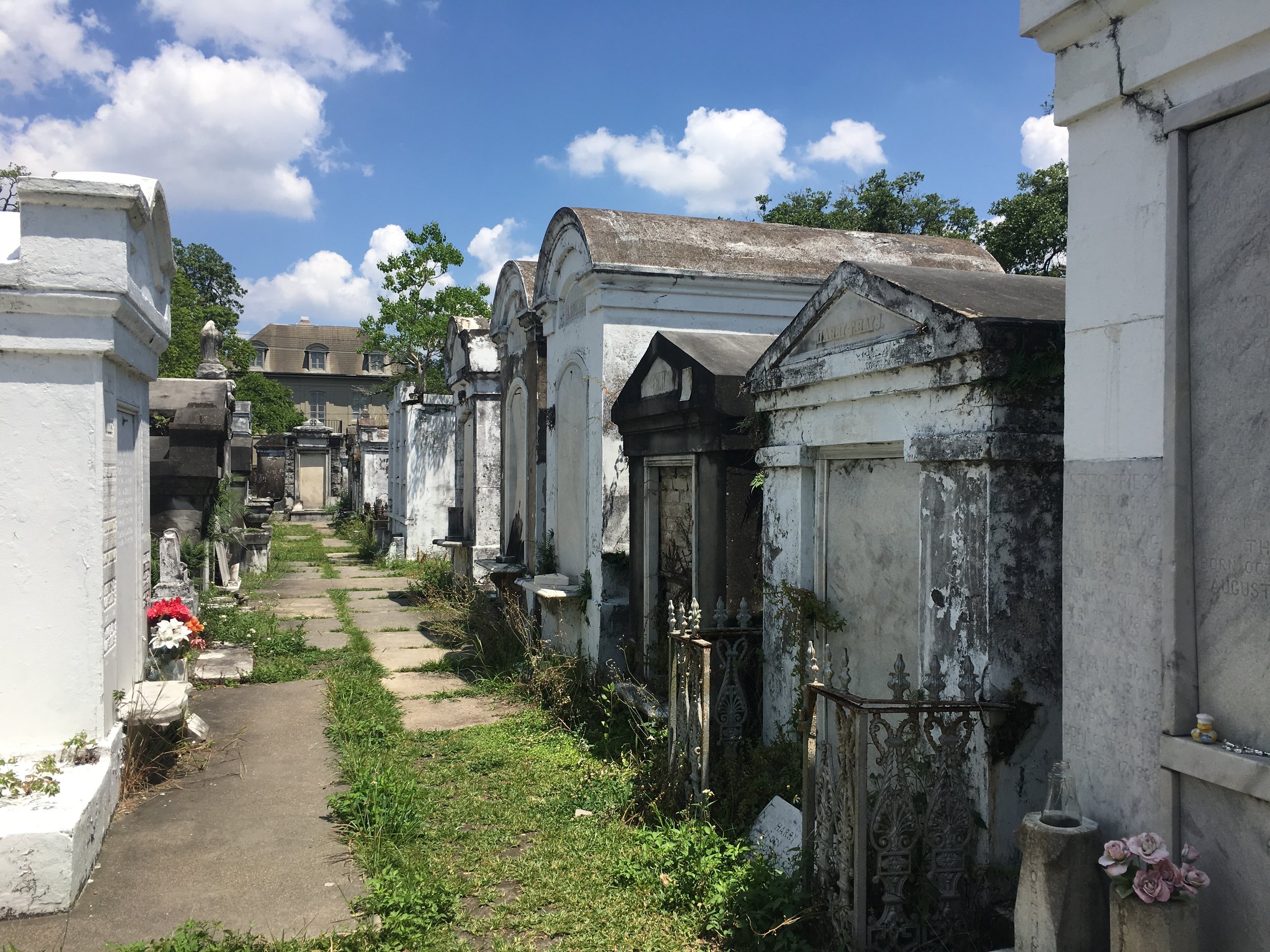 The cemetery, established in 1833, is the resting place for more than 7,000 people. It is not racially or religiously separated and the tombs contain over 26 nationalities. The cemetery is divided into quadrants, with beautiful magnolia trees providing shade in the center of the cemetery. It's the size of a city block (so many bodies in so little space!), so it is easy to navigate.
A few of the tombs that I found, thanks to my online guide, were the following:
The Sercy Family's tomb: In the span of three days, the Sercy family lost their three children to yellow fever in 1878. The cause of death is written boldly in the granite.
The Odd Fellows tomb: A still active fraternal society in which members who paid their dues could choose to be interred in the society's tomb.
The Koenig Tomb: This family built a tomb and then never used it, so it's been left open and is a good example of how individuals are buried in tombs. When a family member dies, the funeral director opens the tomb, places the current body in the tomb in the chamber below the tomb, and places the newest occupant above the chamber.
Walking out of the cemetery, I stumbled upon David Spielman's Gallery on the corner of Washington Ave (to the right when you walk out of the main entrance of Lafayette Cemetery). David has been photographing New Orleans for four decades and has spent the last decade documenting the aftermath of Katrina.
He and I made small talk as I browsed his small but sobering studio. David's photos of New Orleans are haunting and heartbreaking, a reminder that Katrina certainly does still color life here in New Orleans, even in black and white. I purchase prints wherever I go; it's usually my favorite way to showcase my travels at home. I picked up the postcard-sized photos below.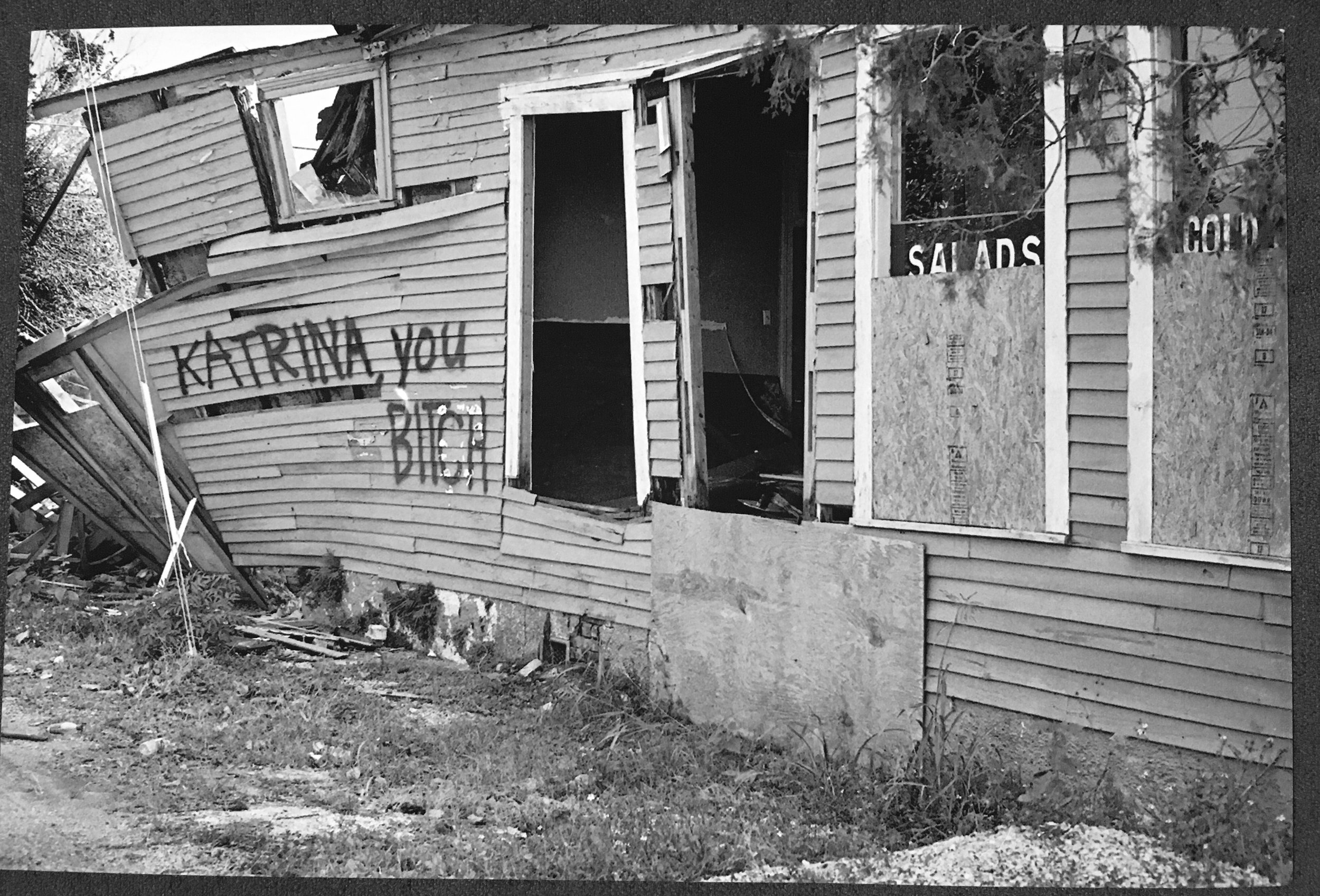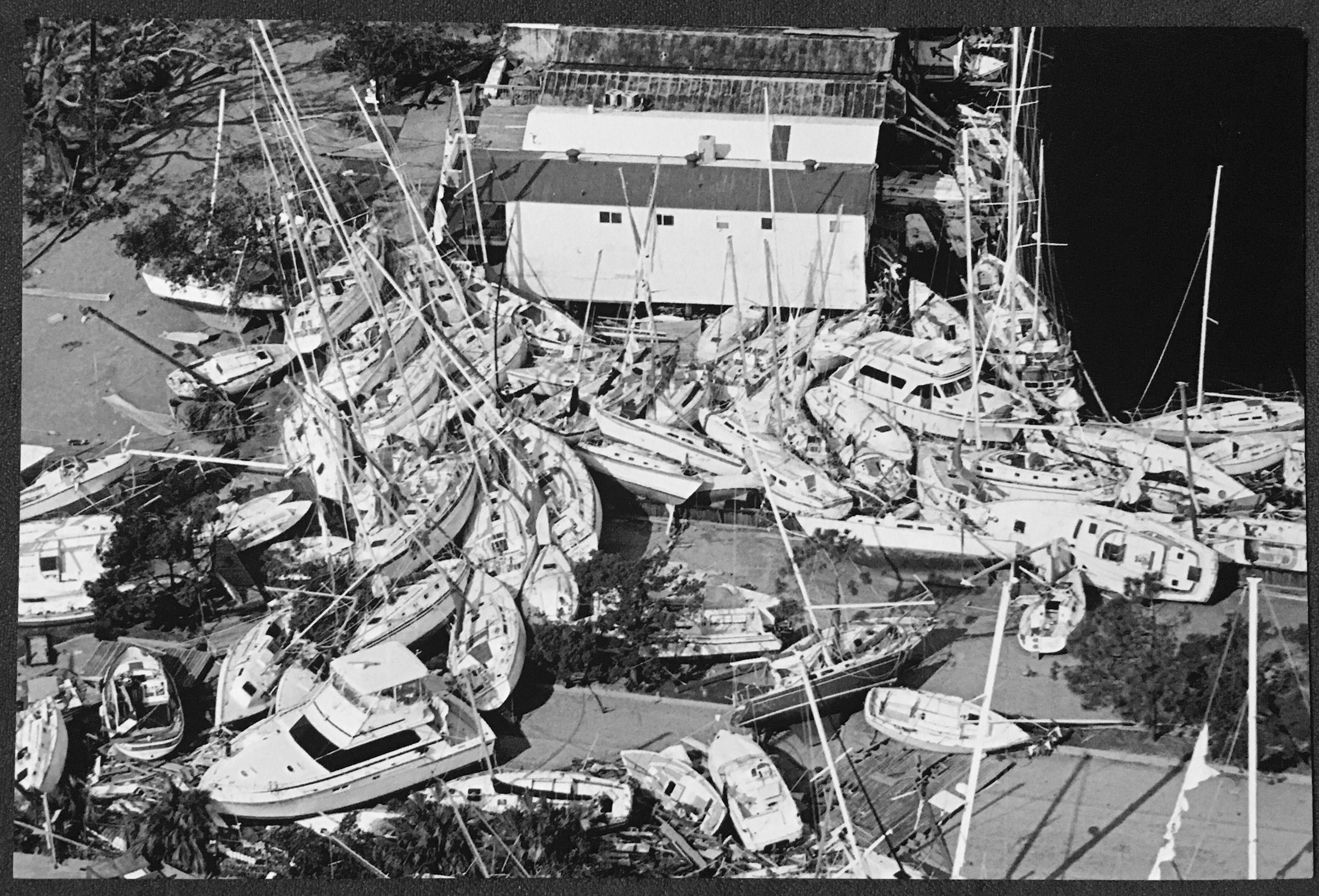 It was already noon (I had planned to leave by then), but I hadn't even checked out Garden District's mansions yet!
The Garden District is very walkable, so I followed a self-guided walking tour that pointed out some of the District's most distinctive homes. This is another area that I plan to do a tour of when I come back; New Orleans was such a classic example of so much to see, so little time! The Garden District is teeming with history and architecture, but with limited time, I just took photos of the mansions that I thought were pretty.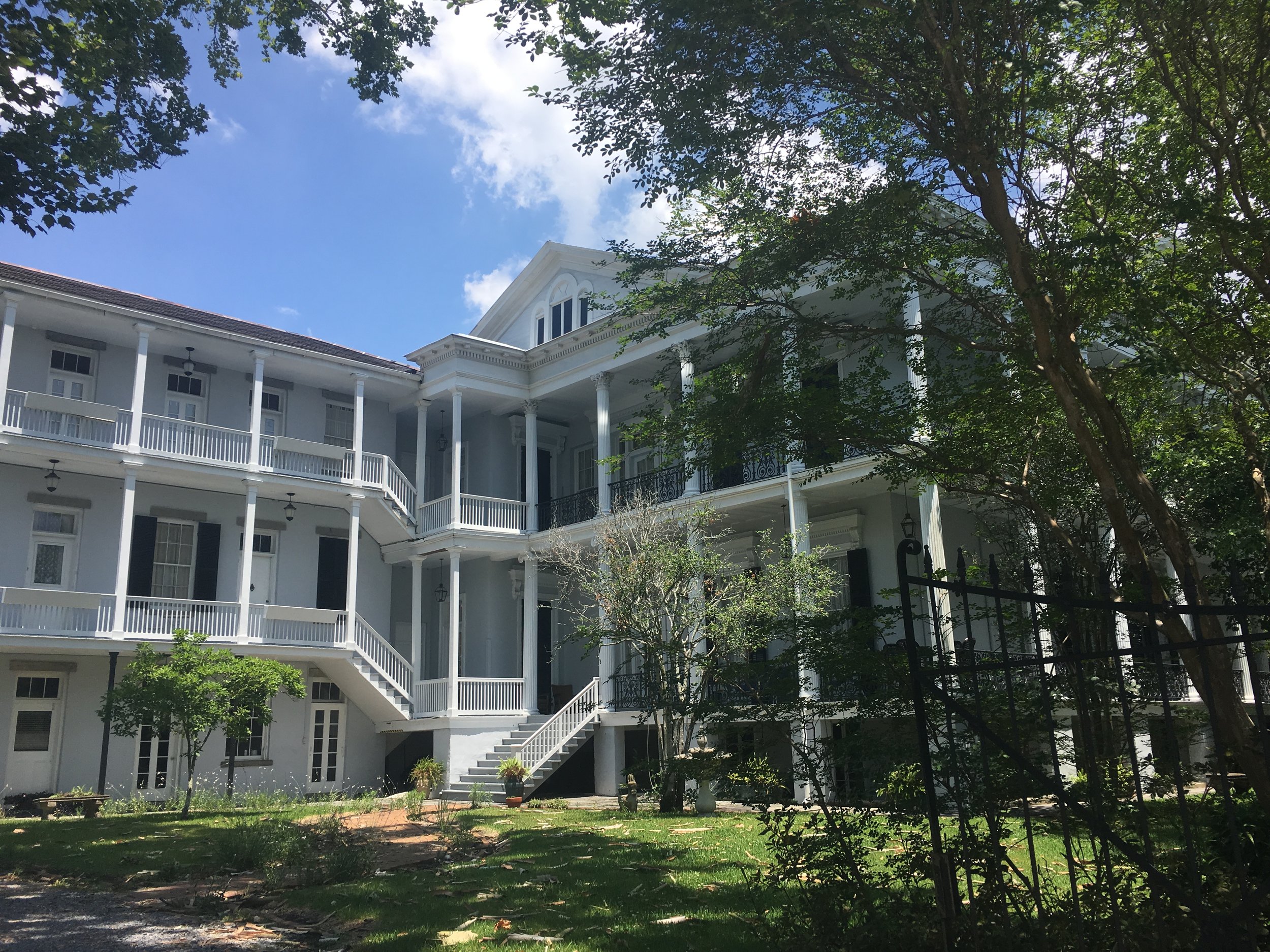 I did a loop of the Garden District, starting on Washington Ave, walking down Coliseum St, turning left on Jackson Ave to check out the hauntingly beautiful Buckner Mansion, and then left onto Prytania St to make my way back to my starting point. Buckner Mansion was especially beautiful (although I had to wait for a few "lifestyle" bloggers to pose for their individual photos in front of the mansion's gates, each of them dressed in black jumpsuits and sunhats, their heads bowed so their hats obscured their faces... cue the eye-roll, folks). Buckner Mansion is the setting for American Horror Story: The Coven and home to several of its own infamous ghost stories.
My last stop in New Orleans was on the edge of the Garden District on First St: Defend New Orleans. Brooke recommended this hip, artsy shop for local t-shirts and prints. They also have a selection of quirky books and records. I bought a beautiful print of a classic New Orleanian house for $25 and a few postcards for $2 each. They even had a stack of free postcards and stickers at check-out. Better yet, a portion of DNO's profits support cultural organizations and creative efforts in NOLA. I can get behind that.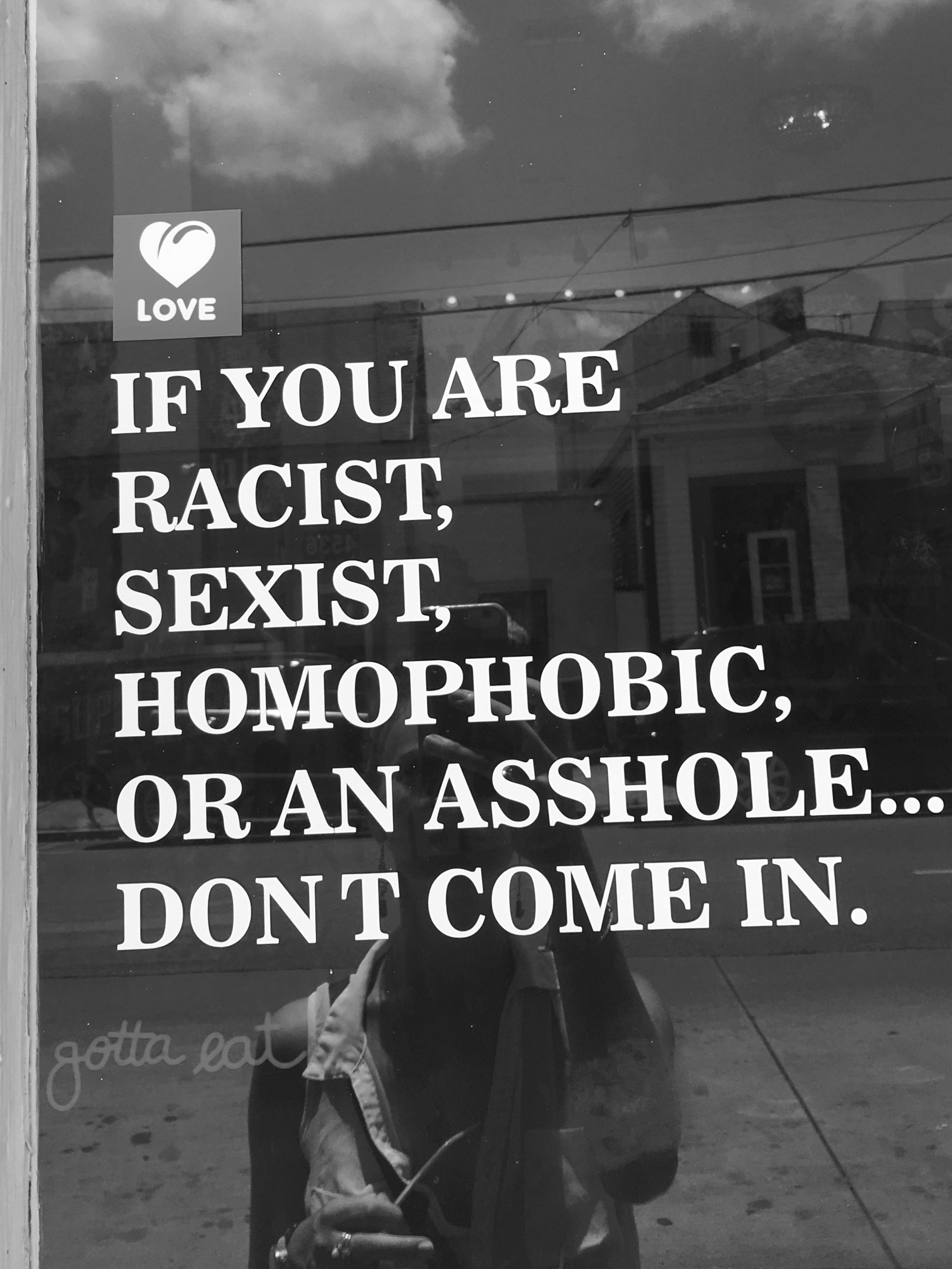 ♦♦♦
With that, I filled up my gas tank, bought a few snacks, and turned north towards Mississippi for the five-hour drive home.
I was unabashedly fascinated by New Orleans. It was unlike anywhere I had ever been, abroad or at home. The city captured my imagination in an instant; it inspired me to write and to take incessant photos, something I haven't done in awhile.
All this despite the fact that I actually had a tough time even getting into the city. A five-hour drive had stretched into six hours due to bad weather. I had to edge my car through flooded streets once I pulled off of I-10, my GPS constantly yelling at me because I couldn't turn down blocked-off streets. I passed homeless people in makeshift tent cities beneath the highway bypasses and my car dipped precariously low as it hit pothole after pothole. I will be totally honest in that I was pretty wary as I creeped closer and closer to New Orleans; I really had no idea what to make of the city. I mean, the infrastructure was questionable already.
Then came that moment when Brooke and I were cruising down St Charles Ave, not a half-hour later. And I was a goner.
I love the pulsing energy that seems to course through the city's very soul, at all hours of the day. I love the vibrancy and unapologetic nature of its inhabitants, from the guy dressed in drag on Magazine St to the woman who was wearing a taco hat on Saturday morning. I love the strength and resilience of the people who rebuilt their broken hearts and broken city, whether they lived in New Orleans pre- or post-Katrina.
I love the locals and small-business owners who took the time to talk to me in that genuine, feel-good hospitable way while also fiercely defending their city. The same locals who get that yeah, their city needs some fixing (don't we all?), but they've been rolling up their sleeves for the last decade to get it done, politics be damned. The same locals who say yeah, New Orleans may not be the easiest city to live in, but it's the only city that matters. And would they live anywhere else? Um, no.
Because for all the grit in this city, there is a lot of glitter here, too. And who doesn't need a bit of glitter in their life?
New Orleans is today, as it was before, a place suspended between the physical world and the realm of imagination. The experience of everyday life here is magnified by emotional intensity and creative reverie, yet also reduced by the heat, humidity, and altitude to its most basic and primal elements: Food, shelters, and the Saints.
You can regulate our smoking and regulate our music and—hard to believe this day has come—you can even regulate our go-cups.
But you cannot regulate soul. You cannot regulate funk. And you cannot pass an ordinance that makes us ordinary.
The best things about us will never change. . .
Because without New Orleans, where would all the Wild Things go in the night?
-Chris Rose, 1 Dead in Attic, Foreward, July 2015
If I'm Being Honest:

I thought having a car would be a plus for this trip. Not true. Take the street car that runs up and down St Charles Ave or take an Uber.
Keep your wits about you and an eye on your purse, especially in the French Quarter. Like any major city, crime is present.
And hydrate, whether you are drinking or not. I wish I had had a water bottle with me on Saturday, because I kept buying bottled water at little shops whenever I could.

Favorite Spots: I honestly loved everything I did in NOLA, thanks primarily to Brooke's tips and recommendations. But I really loved walking through the Garden District, eating at Mr. B's Bistro in the French Quarter, taking in the rooftop view at the Pontchartrain Hotel, driving down St Charles Ave, and picking up local prints at Defend New Orleans.
Budget: I don't think my budget will be particularly helpful to anyone, since I stayed with a friend and NOLA was within driving distance. But for the sake of transparency, I spent $261 on my trip: $83 on gas, $92 on food and alcohol, $52 on prints and photos, $23 for parking in the French Quarter, and $10 on a book.
Next Time: I really want to do a few ghost and cemetery tours next time I visit. Also a cocktail tour, because I've heard that's a thing. I also want to walk the rest of the length of Magazine St and go back to Royal St. And check out some of the historic venues for live music!